The Bloodhound Project

Phase hits over 1,000mph with BLOODHOUND Project
Hitchin's youth support charity Phase will hit new speeds when the unique BLOODHOUND Project - a global engineering adventure, using a 1000mph world land speed record attempt car launches later this year.
The team behind the land speed effort are keen to inspire the next generation to enjoy, explore and get involved in science, technology, engineering and mathematics. This admirable ethos is one that works well with Phase's objectives of making sure every young person in Hitchin can concentrate on their education by being able to access social and well being advice. Phase exists to listen and make a positive difference in the lives of young people.
To mark this the incredible high speed car will carry the Phase logo on its tail fin! This has been made possible due to a donation to the BLOODHOUND Project by Phase supporter Tony Tyler.
The objectives of the BLOODHOUND Project include
Inspiring the next generation about science, technology, engineering and mathematics.
Share an iconic research and development programme with a global audience.
Set a new World Land Speed Record of 1000mph.
Kieran Murphy, director of Phase said:
"We're really excited to be able to show support for this amazing land speed attempt which is being used to raise education awareness in a number of areas, Phase exists to support young people who are struggling to make sense of life. We hope that this inspiring speed project gets young people excited about learning and Phase will be there to give them extra support in order that they can concentrate on their education."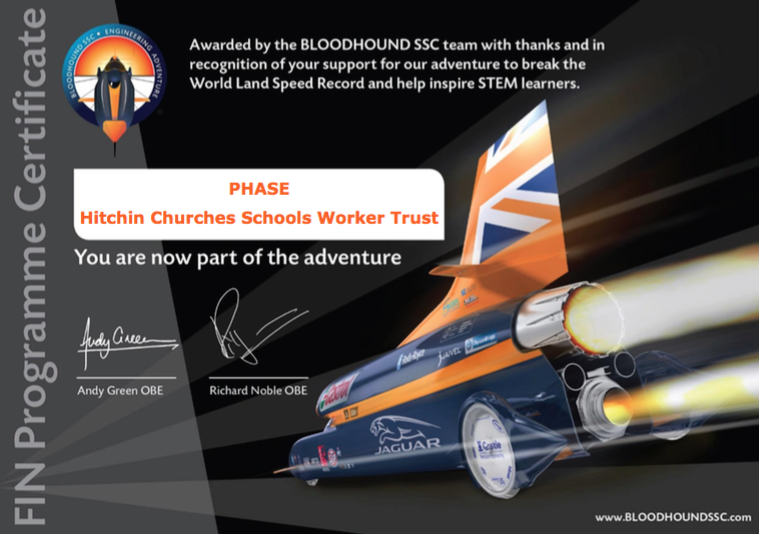 If you would like to know more about the work we do or how you can help, see our website