Supporting mental health in young people - have you tried Shelf Help?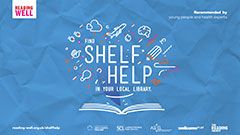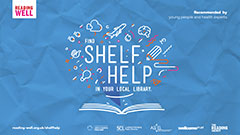 Welcome to our 3rd Guest blog take over.
Dr Marie Polley is a Senior Lecturer in Health Sciences and Research at the University of Westminster. Marie is also Co-Chair of the Social Prescribing Network and is a voluntary youth worker for St Mark's church, Hitchin.
It is estimated that 2,773,460 people under 17 are in need of child and adolescent mental health services provided by the GP or schools. (Aldaba, 2017)
It is also known that half of all anxiety disorders - the most common mental health condition - are experienced before the age of 12 years old. (Fineberg, 2013; Kessler, 2005)
Those are a couple of facts that I hope make you sit and question them. Over 2 million young people in the UK need professional support for mental health – really?
You could be forgiven (almost) for brushing this off and thinking that it's not really mental health issues, but it's 'life' and these young people should 'get a grip' and get on with things. By the end of this blog I hope that will not be your first thought in the future.
Mental health conditions can occur at any age, and it is acknowledged that young people are growing up in a world that has less financial stability, increasing levels of austerity and less certainty of around employment and housing (RSE Scotland Foundation, 2017). Many risk factors exist for poor mental health in young people. For example, young people have more electronic media contact than any other age group, which can expose them to cyberbullying, online harassment or inappropriate material. Other risk factors include feeling stressed with school work, poor relationships with parents, peers or teachers, a negative perception of body image, risky health behaviour, experiences of being bullied and low social economic status (WHO, 2014).
Correlations also exist between mental health problems developed in childhood and adolescence and mental health problems in adulthood (Kim-Cohen 2003). But sadly, not all young people with mental health conditions seek support or receive the support or services they need.
No-one in our society should feel that they are alone and cannot talk about a mental health issue they are experiencing. Yet, if we do not improve our attitude to mental health and especially our ability to know how to support a young person, for some they feel no option but to take their own life.
So my question to you is how can become resourced and ready? This is not aimed at parents and carers, or teachers, or GPs specifically, but ALL OF YOU. At some point in your day, you will be in contact with a young person. You may be a parent or carer, or in the teaching profession. You may be a health professional, or you may be a grandparent, a Godparent, a librarian, a youth worker, a faith leader…OK, so you get the point.
And by becoming resourced and ready I do not mean googling mental health terms – as we all know, web searches return a lot of information, but not all of it is helpful. Did you know that some books on mental health can contain 'triggers' – this is when the way the information or story is written is more likely to trigger harmful behaviour. It is why quality assurance from mental health professionals is important.
Let me quickly explain Reading Well for Young People to you – it is often called Shelf-Help. Shelf Help is a reading list about mental health for young people. The list is for those who experience mental health problems or are friends with, live with, or care for people who do, to better understand and deal with their situation. This list contains a mixture of non-fiction, fiction and poetry and many books talk about the experience of mental health conditions from the perspective of other young people who have experienced it.


The books provide advice on specific topics such as anxiety, depression, stress, OCD, self-harm, bullying, eating disorders, autism and Aspergers as well as general topics to do with adolescence. You can click here for a link to the book list on the Reading Agency website.
Importantly, a co-production model was used whereby health experts provided expert knowledge to quality assure the content from a professional perspective. Young people from YoungMinds then provided their perspectives to help identify books that young people would find accessible (Hilgers, 2015).
I had the pleasure of conducting a pilot study on the Shelf Help book list for the Wellcome Trust. We wanted to explore if there was benefit to having this reading list promoted in a school environment. I was delighted that the Priory School and Phase both agreed to pilot the reading list.
You can download the full report and results of the pilot research here, but briefly, let me summarise what we learnt.
Young people need support to engage with the books and it helps if the books are clearly displayed in the library. Ideas such as using the books for coursework, promoting a book of the week across the school got many young people reading.

Young people reported understanding more about mental health conditions and then responding more appropriately to friends who had conditions. Many young people said they no longer felt alone - they understood how to explain their feelings in a way that is more likely to then be understood by an adult.
For those who had no mental health conditions, they felt more confident that should something occur in the future, they know what to do and where to get help and support. Importantly most young people said that they now realise what a lot of these terms actually mean, e.g. depression, anxiety, and are more sensitive to using these phrases in conversation.
It wasn't just the young people who benefitted. Adults found the books quick and easy to read, it helped them become more informed on mental health issues, from a young person's perspective. We heard how some young people and their parents were using a book together, to help have a shared understanding and starting point for discussion.
Ultimately we want to help young people get the support that can help them deal with mental health situations they may be experiencing at the moment and to make young people more articulate and resilient. But that is not just their responsibility – it is all of us who need to do something.
So I challenge you to do something really practical today. Everyone can support mental health in young people, directly or indirectly. Here's some ideas…
Forward this blog to anyone you think could find Shelf Help useful. Do you know people who work with young people – do they know about this reading list? Could it be one of their resources to support young people and parents/carers?

Read the books yourself – become more informed about young peoples experiences. They are available in your local public libraries.

Advocate to Secondary schools in your area - do they stock these books in their library?– how are they promoting them to all pupils? Are they promoting this on their websites so parents can benefit? Send them a link to the research report.

Advocate to health professionals - have they heard about these books? Could they put a poster up in their clinic or medical centre?
For promotional material on Shelf Help you can contact Rosie Walworth (rosie.walworth@readingagency.org.uk) and Annie Robinson (Annie.Robinson@readingagency.org.uk) at the Reading agency.
References:
Aldaba (2017). Children's commissioner. Measuring health vulnerabilities: technical paper 5 in Children's commissioner project on vulnerable children. July 2017 Report.
Fineberg NA, et al (2013). The size, burden and cost of disorders of the brain in the UK. J Pyschopharmacol 27(9): 761-70
Hilgers P (2015) YoungMinds report on process and finding from co-production of 'Reading Well Books on Prescription' for young people. Report by YoungMinds
Kessler RC, Berglund P, Demler O, Jin R, Merikangas KR, Walters EE. Lifetime prevalence and age-of-onset distributions of DSM-IV disorders in the National Arch Gen Psychiatry. 2005;62:593–602
Kim-Cohen J, Caspi A, Moffitt TE, Harrington H, Milne BJ, Poulton R. Prior juvenile diagnoses in adults with mental disorder: developmental follow-back of a prospective- longitudinal cohort. Arch Gen Psychiatry. 2003;60:709-17.
RSE Scotland Foundation, (2017). Health, Happiness and Wellbeing in the transition from adolescence to adulthood: A systematic overview of population level interventions. Report.
WHO (2014). Social Determinants of Health and Well-being Among Young People: Health Behaviour in School-aged Children. World Health Organisation, Geneva, Switzerland.